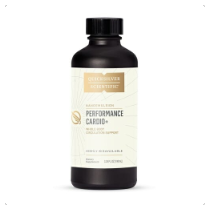 Click to enlarge image(s)
PERFORMANCE CARDIO+ 100ML by quicksilver scientific
Aging, genetic makeup, food choices, and lack of exercise all play a role in impeding healthy macro and microcirculation and oxygenation throughout the body putting the cardiovascular system at risk. Performance Cardio+ is an advanced whole-body circulation formula designed to support blood flow and oxygenation to optimize health.
Supports healthy blood circulation throughout the body
Supports energy and athletic performance
Helps maintain healthy sexual function
Supports nitric oxide production
Aids healthy cognition
Combats blood stagnation
Uses proprietary Quicksilver Delivery Systems® technology to create small, stable delivery vesicles (between 20-70 nm) that begin absorbing as soon as they hit the mouth.*
The difference is clear: this product's liquid transparency can only be achieved with nanoparticles that are smaller than wavelengths of light.*
This product contains an array of time-honored herbs and modern nutraceuticals that have been found to improve macro and microcirculation inside the body.
Supports healthy circulation and oxygenation throughout the body with the "king" of Western cardiovascular herbs, Hawthorn berry, along with the Eastern botanicals Dan Shen, Notoginseng, and Gingko leaf†
Helps maintain healthy nitric oxide signaling and levels with the powerful nutraceuticals L-Citrulline and Gingko extract†
Support healthy aging by managing healthy lipid and glucose levels, and vascular flow with the targeted herbs and plant compounds He Shou Wu, Boswellia, Myrrh, and Cinnamon bark oil†
*These statements have not been evaluated by the Food and Drug Administration. This product is not intended to diagnose, treat, cure or prevent any disease.
Vegan