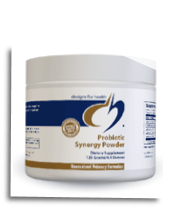 Click to enlarge image(s)
Designs for Health has once more taken advantage of the latest advancements in scientific technology. Probiotic Synergy Powder contains 6 stable and viable strains — carefully selected to be acid tolerant and provide excellent adherence to the gut wall. These 6 strains represent the most necessary, stable and best-researched bacteria known today. We now provide 20 billion live organisms per half teaspoon. Probiotics maintain a healthy bacterial environment in the intestines by displacing bad bacteria, aiding digestion of food including dairy products and by combating yeast overgrowth.* Beneficial bacteria also aid in the synthesis of Vitamin K and CLA and possibly the B Vitamins. Many doctors recommend Probiotics after a patient has been taking antibiotics. Daily use of Probiotic Synergy supports healthy bowel movements. Refrigeration is not recommended or required (as to avoid moisture accumulation). Room temperature is ideal. Keep out of extreme temperatures—especially heat.

*These statements have not been evaluated by the Food and Drug Administration. This product is not intended to diagnose, treat, cure or prevent any disease.