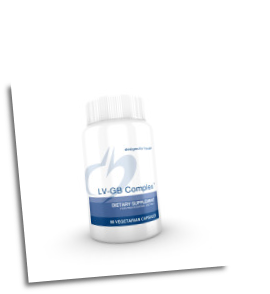 Click to enlarge image(s)
Designs For Health
LV-GB Complex™ 90 vegetarian capsules


LV-GB Complex provides support for liver and gallbladder function by providing lipotropic substances to aid in the elimination of fatty substances from the liver, as well as promoting proper bile flow (ie: L-methionine, taurine, inositol, and choline, beta-carotene, ox bile). These are combined with a combination of hepatic (aid the liver) and cholagogue (aid bile flow) herbs, such as milk thistle, greater celadine, dandelion, fringe tree, artichoke, and beet for optimal processing and elimination of toxins. This formula is designed to also support optimal digestion and assimilation of essential fats and fat soluble vitamins.

*These statements have not been evaluated by the Food and Drug Administration. This product is not intended to diagnose, treat, cure or prevent any disease.