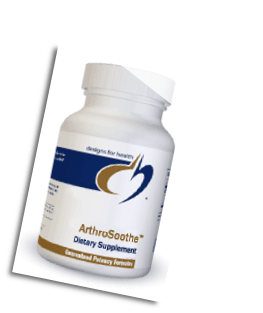 Click to enlarge image(s)
ArthroSoothe™ 120 vegetarian capsules by Designs For Health - This synergistic formula contains powerful joint support nutraceutical compounds including glucosamine sulfate, type II collagen, cetyl myristoleate (CMO), green-lipped mussel, MSM, hyaluronic acid, and niacinamide. SOD supportive nutrients were added including zinc, copper, manganese, and selenium. Last but not least, it contains standardized herbals including boswellia, turmeric and resveratrol.

*These statements have not been evaluated by the Food and Drug Administration. This product is not intended to diagnose, treat, cure or prevent any disease.

Trademark Information: Chelazome is a registered trademark of Albion Laboratories, Inc. Chelates covered by U.S. Patent 5,516,925 and patents pending. GlycoMarine™ is a registered trademark of MNC.