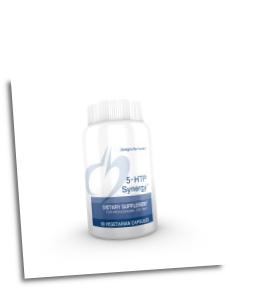 Click to enlarge image(s)
5HTP Synergy 90 caps by Designs For Health - Our modern, stressful lives lower levels of the feel-good neurotransmitter serotonin. Serotonin depletion leads to food cravings, depression, and other mood disorders. The pharmaceutical industry has responded to the serotonin crisis by creating a wide array of medications which seek to restore serotonin metabolism. A better approach may be to replete serotonin naturally by using its precursor, 5-hydroxytryptophan (5HTP). Naturally restoring serotonin levels may help promote healthy mood levels and may also reduce food cravings.* Pyridoxal-5-Phosphate (P5P), the activated form of vitamin B6, is included in this formula to support overall neurotransmitter metabolism.

*These statements have not been evaluated by the Food and Drug Administration. This product is not intended to diagnose, treat, cure or prevent any disease.