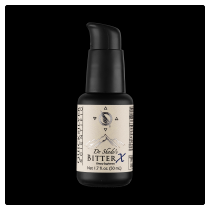 Click to enlarge image(s)
BitterX comes as a sequel to the popular Quicksilver Scientific product, Dr. Shade's Bitters No. 9. While Dr. Shade's Bitters No. 9 is an excellent support for digestive function and overall health, a slightly more bitter blend of synergistic herbs to support detoxification was a necessary addition to the Quicksilver product line. BitterX is the next level bitter, with a quartet of strong digestive, liver, gallbladder, and kidney supportive botanicals, slightly tempered for flavor with a touch of sweet orange essential oil.
The four-fold army in BitterX is comprised of dandelion, gentian root, solidago (goldenrod), and myrrh, delivered in the advanced liposomal format that Quicksilver Scientific is well known for. This blend of bitters has a stronger effect of activating the transporters necessary to move bile, and toxins, from the liver and out through the gallbladder.* Dandelion steps out in front, carrying with it a shield of hepatoprotective, renal, and bile flow stimulating benefits.* Gentian, well known as the most bitter herb, also is an important player on this detoxification team. In addition to promoting healthy bile flow, gentian has been observed to increase levels of glutathione and other antioxidant-supporting enzymes.* Solidago, a classic herb used to support the urinary system, promotes diuresis and with this the elimination of toxins, simultaneously increasing glutathione S-transferase activity, a critical enzyme in phase II detoxification.* Finally, the oleo gum resin ofmyrrh brings up the end, with bile flow supporting and microbial balancing qualities.*
For those who need a bigger bitter, BitterX is the turnkey to supporting the body in the critical processes necessary for effective detoxification.
*These statements have not been evaluated by the Food and Drug Administration. This product is not intended to diagnose, treat, cure or prevent any disease.