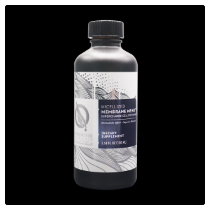 Click to enlarge image(s)
Membrane Mend™ is a synergistic blend of phosphatidylcholine, plant-based essential fatty acids, astaxanthin, and tocotrienols designed to promote the health and resilience of cell and organelle membranes.
Phosphatidylcholine – Phosphatidylcholine (PC) provides the building blocks for cell membranes. Supplemental PC repairs damaged lipid membranes, restoring healthy cellular and mitochondrial function.
Astaxanthin – Astaxanthin protects delicate membrane lipids against oxidative stress, preserving biological membrane integrity. Our astaxanthin is sourced from microalgae, making it suitable for vegans and those with shellfish allergies.
Ahiflower® Plant-Based Essential Fatty Acids – Ahiflower® is a blend of plant-based essential fatty acids that support the health and function of cell membranes. This omega-3-rich blend reduces inflammation and supports membrane fluidity and integrity.
Delta-Tocotrienols – Delta-tocotrienol quenches membrane-damaging free radicals.