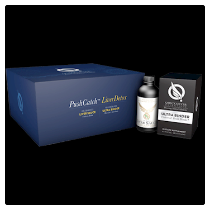 Click to enlarge image(s)
The PushCatch™ LiverDetox by QuickSilver Scientific is a versatile two-step cleansing protocol designed to support the elimination of toxins while minimizing their redistribution and reabsorption. Liver detoxication is essential for proper health, but improperly designed protocols can result in toxin redistribution, not elimination.
QuickSilver Scientific's elegant and powerful formulation and delivery chemistry derive from Dr. Shade's extensive research into detoxication pathways. His specialized "push and catch" system pushes toxins with a liposomal blend of bitters buttressed by powerful antioxidant support. The catch captures toxins in the gut with a broad- spectrum constellation of binders that are blended with uniquely soothing prebiotic fibers. The toxins can then be safely eliminated by the body.
The product images shown are for illustration purposes only and may not be an exact representation of the product. Quicksilver Scientific® reserves the right to change packaging, product images and specifications at any time.