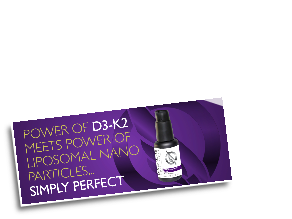 Click to enlarge image(s)
D3-K2 by QuickSilver Scientific

Studies indicate that most Americans are deficient in vitamin D3 and its natural partner vitamin K2. Both are key players to overall health and work in tandem. Vitamin D

it's technically not a vitamin but a potent neuroregulatory steroidal hormone that influences nearly 3,000 of your 25,000 genes. It literally turns genes on and off that can exacerbate or prevent many health states, including calcium deposition in bone.