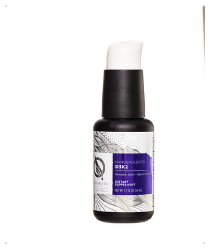 Click to enlarge image(s)
D3-K2 by QuickSilver Scientific
Nanoemulsified D3K2 utilizes the more effective form of Vitamin D known as Vitamin D3 and the highly bioactive form of vitamin K known as menaquinone-7, or MK-7. Vitamin D, most recognized as necessary for normal immune system function and bone health, has systemic impacts far beyond this. Vitamin D receptors have been shown to influence the expression of thousands of genes, including those associated with expression of detoxification enzymes. Vitamins K and D have interdependence in metabolic functions.
Studies indicate that most Americans are deficient in vitamin D3 and its natural partner vitamin K2. Both are key players to overall health and work in tandem. Vitamin D it's technically not a vitamin but a potent neuroregulatory steroidal hormone that influences nearly 3,000 of your 25,000 genes. It literally turns genes on and off that can exacerbate or prevent many health states, including calcium deposition in bone.
Shopping Basket
Note:
All prices in US Dollars
Specials

1 hour Consultation with Dale White, LAc, MS, DNBAO
After paying online for your Consultation, please contact our office at (707) 824-8381 to schedule. Or you can pay over the phone at the time you schedule.
15 minute consultation with Dale White, LAc, MS, DNBAO
15 Minute Phone Consultation with Dale White, LAc, MS, DNBAO
30 Minute Phone Consultation with Dale White, LAc., DNABO
30 Minute Phone Consultation with Dale White, LAc, MS, DNBAO
45 minute consultation with Dale White, LAc, DNBAO
45 Minute Phone Consultation with Dale White, LAc, MS, DNBAO
75 Minute Consultation with Dale White, LAc, MS, DNBAO
75 Minute Phone Consultation with Dale White, LAc, MS, DNBAO
90 minute consultation with Dale White, LAc, DNBAO
90 Minute Phone Consultation with Dale White, LAc, MS, DNBAO