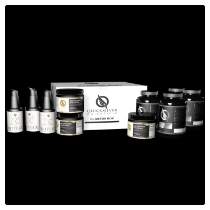 Click to enlarge image(s)
GI DETOX Box by QuickSilver Scientific
The G.I. Detox Box supports a healthy balance of flora and immune function in the gastrointestinal tract and beyond, and can be used as a stand-alone therapy or preparation for systemic detoxification. This combination of products delivers supportive natural substances to the gastrointestinal tract where they act locally to rebalance the microbial population, restore mucosal health and function, simultaneously encouraging elimination of toxins both from the gastrointestinal tract and systemically.
*These statements have not been evaluated by the Food and Drug Administration. This product is not intended to diagnose, treat, cure or prevent any disease.
This BOX supplies Full 2-Months Protocol

Prior to purchase, please contact the office of Dale White, LAc. at (707) 824-8381 for a consultation to determine if this product is appropriate for your use and to understand completely how to use it.