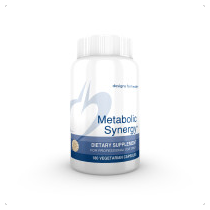 Click to enlarge image(s)
Designs For Health
Metabolic Synergy™ Capsules 180 vegetarian capsules


Formerly Metabolic Formula Number One™
This multivitamin and mineral formula was designed by a medical doctor specializing in blood sugar and endocrine health concerns. It includes state-of-the-art, newly researched, anti-glycating agents such as carnosine, benfothiamine and pyridoxamine. The mineral forms have been improved. The magnesium, chromium, zinc, manganese, and vanadium are now true chelates from Albion, the leader in the manufacture of mineral chelates with superior absorption.

*These statements have not been evaluated by the Food and Drug Administration. This product is not intended to diagnose, treat, cure or prevent any disease.

Trademark Information: Chelazome, Chelavite and the Albion Medallion are registered trademarks of Albion Laboratories, Inc. Chelates covered by U.S. Patents 5,516,925 5,614,553 and patents pending.