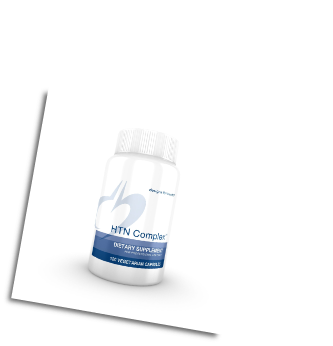 Click to enlarge image(s)
Designs For Health
HTN Complex 120 capsules


Hypertension (high blood pressure) is one of the most common disorders in the Western world, with a prevalence of about 15% of people having this condition. Hypertension is epidemiologically linked with a higher risk of cardiovascular-related diseases and premature death. HTN Complex is an encapsulated formula by Designs for Health that provides an array of nutrients and herbs to safely promote the maintenance of normal blood pressure and vascular tone, including: Hawthorne Extract (standardized to 2% vitexin), Pomegranate Extract (standardized to 40% ellagic acid), and Taurine. This formula is designed to prevent sugar induced rises in blood pressure, sodium-sensitive blood pressure changes and even renin abnormalities. Other nutrients in HTN Complex include: Vitamin B-6, folic acid, N-acetyl-cysteine (NAC), lipoic acid, and Albion true chelated forms of magnesium, vanadium, and zinc. HTN Complex can be combined with additional K+2 Potassium, Arginine, Magnesium Malate Chelate, Whey Cool Protein, and Omega Ultra Marine from Designs for Health, Inc. for maximum results and for the patient with significant existing hypertension.

*These statements have not been evaluated by the Food and Drug Administration. This product is not intended to diagnose, treat, cure or prevent any disease.

Trademark Information: Chelavite and Chelazome are registered trademarks of Albion Laboratories, Inc. Malate covered by U.S. Patent 6,706,904 and patents pending.