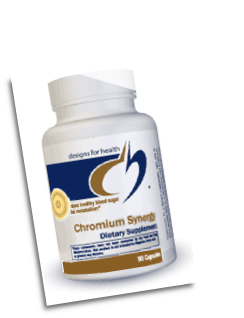 Click to enlarge image(s)
Chromium Synergy 90 vegetarian capsules by Designs For Health - What are true chelates?
For minerals to properly form coordinate covalent bonds with the amino groups of amino acids, they must be mixed in liquid solution. These bonds cannot form in a dry environment by simply mixing ingredients together in powdered form. True chelates need to be small enough in molecular weight to be absorbed by the body (not more than 800 daltons). True chelates are absorbed better than mineral salts and are better retained in body tissue. Chelates are better tolerated than non-bound mineral salts. Since they are better tolerated and absorbed they are less likely to cause loose stools or other gastrointestinal discomfort. The ligands the minerals are chelated to are important as the chelated compound will remain chelated throughout the gut and into the bloodstream. Mineral salts from non-true chelates break apart far sooner, usually in the stomach, leaving the body with the extra compound to deal with and the mineral in ionic form. Ionic minerals can interfere with the absorption of other minerals such as iron and zinc whereas chelated minerals do not. Albion minerals are mainly chelated with the amino acid glycine due to its low molecular weight. Glycine is very safe, even in high doses. It helps to slow the degeneration of muscle tissue as it helps to synthesize creatine. Glycine is involved in energy production, formation of amino acids for the immune system, CNS function, liver detoxification, and prostate health.

*These statements have not been evaluated by the Food and Drug Administration. This product is not intended to diagnose, treat, cure or prevent any disease.

Trademark Information: Chelazome, Chelavite, and the Albion Medallion logo are registered trademarks of Albion Laboratories, Inc. Chelates are covered by US Patents 5,516,925, 5,614,553 and patents pending.