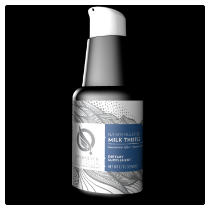 Click to enlarge image(s)
Nanoemulsified Milk Thistle by QuickSilver Scientific



DESCRIPTION

This is a refrigerated product and is not eligible for refunds or replacements.

Each 2 mL of Nanoemulsified Milk Thistle delivers 30 mg of milk thistle extract (80% Silymarin). A serving size is 4 pumps. Each bottle contains 25 30-mg servings.

Milk thistle contains three phytonutrients (silybin, silydianin, and silychristin) together known as silymarin. Silymarin has been shown to prevent the absorption of toxins into the liver's cells. It supports healthy digestive function and bile flow, and can help protect the body's stores of glutathione, our primary endogenous antioxidant.