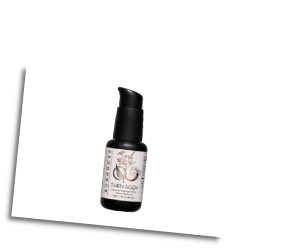 Click to enlarge image(s)
Thrivagen by QuickSilver Scientific
Chronic stress has a depleting effect on the body, increasing the need for nutritional and antioxidant support. Botanical substances known as adaptogens support the body's response (or adaptation) to conditions of stress and high demand. They help the hypothalamic-pituitary-adrenal (HPA) axis to adapt to stress, facilitating a more balanced response to stressors, as well as supporting restorative sleep.*Thrivagen is an adaptogenic blend that includes classic energy-supportive herbs such as American Ginseng, Licorice, and Rhodiola roots, but also includes the more female-specific endocrine system restorative herbs Chaste Tree berry and Shatavari, as well as Angelica archangelica.
Chaste Tree berry, also known as Vitex agnus-castus, has long been used to support female hormonal balance, cycle regularity, and supports the reduction of menopausal-related complaints.* Shatavari (Asparagus racemosus) is an Ayurvedic herb that is traditionally taken through all phases of a woman's life, providing natural phytoestrogens that gently modulate and support normal hormonal function.* Angelica archangelica, commonly known as wild celery and in the same family as Dong quai (Angelica sinensis), improves menstrual regularity and reduces menstrual discomfort, and as a bitter also balances digestive system function.*
The blend of botanicals in Thrivagen gently balances female-related complaints, enhancing antioxidant defenses, and regulating function under stress. Helping you to thrive – again!
*These statements have not been evaluated by the Food and Drug Administration. This product is not intended to diagnose, treat, cure or prevent any disease.

Shopping Basket
Note:
All prices in US Dollars
Specials
Black Box Liver Detox by QuickSilver Scientific
The BLACK BOX is designed to help detoxify and reset the liver. This one-month (4-week) protocol flushes the liver and gallbladder to promote good bile drainage and effective metabolism. Featuring Quicksilver Scientific's phospholipid-rich Etheric Delivery™, the products chosen for this professional detoxification system support basic cellular function by feeding the cells' membrane structures, thus helping your body's systems to function in harmony.The Black Box Liver Detox contains the products Glutathione, Pure PC, Dr. Shade's Bitters No. 9, and Methyl B-Complex.

Glutathione, Liposomal with Lemon Mint by QuickSilver/PURXpressions
Glutathione is the master detoxifier and the body's main endogenous antioxidant. Toxins are linked to glutathione, which then carries them into the bile and the stool, and out of the body. Glutathione protects our cells' delicate chemical machinery, and helps energy metabolism run efficiently. In addition to greatly improving bioavailability, the liposomal delivery format enables intracellular delivery of glutathione.

Nanba Maitake - 300 Tablets
Nanba Maitake Concentrate Tincture. Boosts human immune system. Concentrated approximately 300:1. Most concentrated Maitake product available anywhere. 300 times stronger than dried maitake mushroom products.

UF-n, Fucoidan
Enhances cancer cell self destruction, helps reduce tumor blood supply, reduces DNA gene mutation, reduces cancer metastisis, protects against cancer formation, inhibits cancer from chemical poisons, enhances aggresive Immune response & reduces cancer cell proliferation.

Vitamin C plus R-Lipoic 1.7 oz drops by QuickSilver
Quicksilver Scientific's Etheric Delivery™ Vitamin C w/ R-Lipoic Acid is the most absorbable form of professional-grade Vitamin C. Vitamin C is essential to any detoxification program because it feeds the system that eliminates toxins. It is also very effective in removing lead and other heavy metals from our system and fighting off the free radicals that form in the liver during the first phase of detoxification. Vitamin C also supports the growth and repair of collagen in all parts of the body, cholesterol metabolism, is a cofactor in numerous enzymatic reactions, and is necessary for the synthesis of hormones and neurotransmitters.