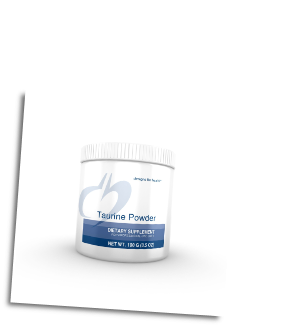 Click to enlarge image(s)
Taurine is a sulfur-containing amino acid that plays a myriad of roles in promoting health. Dietary sources of taurine are meat and seafood, especially shellfish such as muscles, clams and oysters. Those who do not eat these foods regularly, especially vegetarians, may be at risk for taurine deficiency. The scientific community is still in disagreement as to whether humans make enough taurine in their own metabolism to meet their needs. Also, elevated levels of homocysteine is a sign that the body may be having difficulty making taurine. Because taurine is essential for heart function, immune function, glucose metabolism, and nervous system health, low levels of taurine should be avoided and corrected with dietary changes and/or supplementation.

*These statements have not been evaluated by the Food and Drug Administration. This product is not intended to diagnose, treat, cure or prevent any disease.