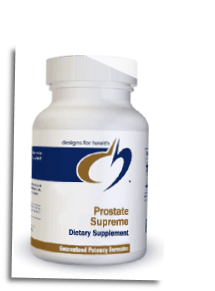 Click to enlarge image(s)
Prostate Supreme provides a balanced and comprehensive support for optimal prostate health and function. This formulation promotes a healthy testosterone to dihydrotestosterone (DHT) balance, favorable aromatase activity to limit the conversion of testosterone to estradiol (found to cause prostate tissue proliferation and BPH), supports optimal bladder function, and it provides targeted nutritional and antioxidant support to rejuvenate the prostate and maintain health prostate health.

*These statements have not been evaluated by the Food and Drug Administration. This product is not intended to diagnose, treat, cure or prevent any disease.