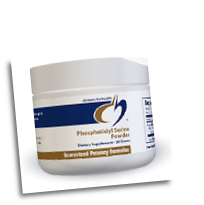 Click to enlarge image(s)

Phosphatidylserine (PS) is an essential component of all neuronal membranes. Human research suggests PS may help support overall brain wellness.* PS Powder is an excellent delivery system for children and the elderly who may have difficulty swallowing capsules. PS powder has virtually no taste and will dissolve into applesauce or virtually any food. PS is derived from soy.

*These statements have not been evaluated by the Food and Drug Administration. This product is not intended to diagnose, treat, cure or prevent any disease.