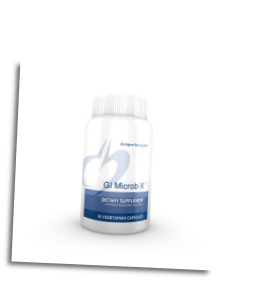 Click to enlarge image(s)
GI Microb-X 60 vegetarian capsules by Designs For Health -
GI Microb-X is a blend of botanical extracts with a long history of use as natural antimicrobials. The ingredients provide a broad spectrum of activity against the most common pathogens present in the human GI tract in conditions of dysbiosis, while being relatively sparing of normal flora. The botanical substances in GI Microb-X are also commonly represented on sensitivity testing provided by the major functional laboratories performing stool analysis. The recommended usage for this product is two capsules upon arising and 2 capsules at bedtime. Change to taking with a meal if it causes stomach upset.

*These statements have not been evaluated by the Food and Drug Administration. This product is not intended to diagnose, treat, cure or prevent any disease.