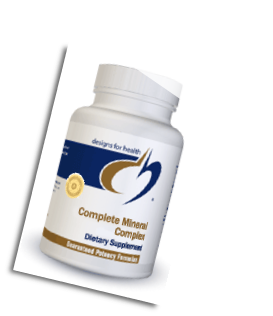 Click to enlarge image(s)
Complete Mineral Complex 90 vegetarian caps by Designs For Health - This iron-free mineral formula contains the finest chelated minerals from Albion Advanced Nutrition for optimal absorption and utilization. Complete Mineral Complex is ideal as a daily supplement, or for use in mineral replenishment during other medical therapies that may deplete mineral status.


*These statements have not been evaluated by the Food and Drug Administration. This product is not intended to diagnose, treat, cure or prevent any disease.

Trademark Information: Chelavite and Chelazome are registered trademarks of Albion Laboratories, Inc. Chelates and malates covered by U.S. Patents 4,863,898; 5,516,925; 5,614,553, 6,706,904 and patents pending.