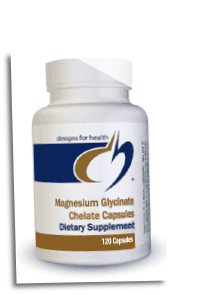 Click to enlarge image(s)
Designs For Health
Magnesium Glycinate Chelate 120 vegetarian capsules


Each capsule provides 150 mg of elemental magnesium. This chelated magnesium is supplied by Albion Advanced Nutrition, the best mineral chelators in the industry. This product should not cause loose stools or stomach upset due to the very stable chelate formed between two glycine molecules and each magnesium ion via a patented process. There is no need to worry about absorption interference just like Designs for Health's other chelated mineral products.

*These statements have not been evaluated by the Food and Drug Administration. This product is not intended to diagnose, treat, cure or prevent any disease.

Trademark Information: The Albion Medallion design is a registered trademark of Albion Laboratories, Inc. Chelate covered by U.S. Patents 5,516,925 and patents pending.